If you desire a Frenchie, take your pick from a litter at Crosstimberfrenchies. We are an experienced dog breeder that focuses on breeding French bulldogs.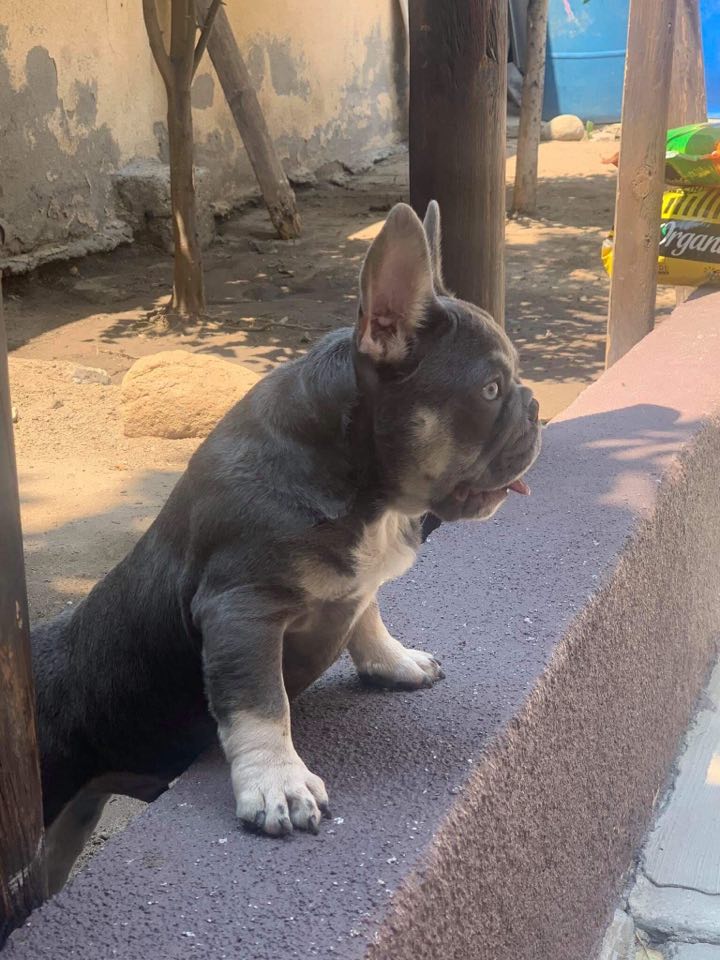 Welcome to crosstimberFrenchies
Dog lovers who have always wanted French bulldogs will be delighted to see different litters from Crosstimberfrenchies. We offer puppies for adoption in Oklahoma. Very adorable and sociable, our pups come in both exotic and standard colors.
On this site, we post pictures of our cute litters. Whenever we have future breedings scheduled, we will post photos of our dams and studs. All of our dogs are AKC™ registered. We raised them lovingly in our own homes. They are kept indoors, and we provide them with all of the necessities to assure their good health and well-being.
Aside from offering the cutest pets to fit your lifestyle, we also offer a stud service. We provide you with the proper genetics for a breeding program. Our more than 15 years of experience in handling this and other breeds has made us fully knowledgeable of its nature and habits. In fact, we have already come to a point where we could read a dog's character just by observing it.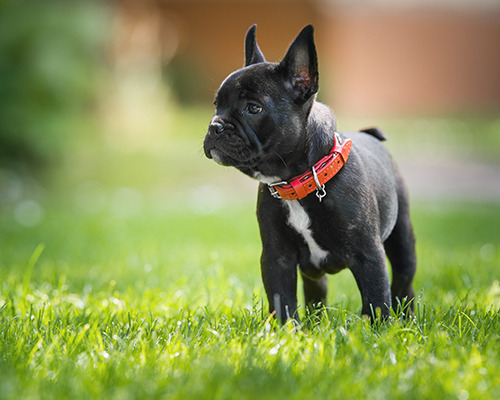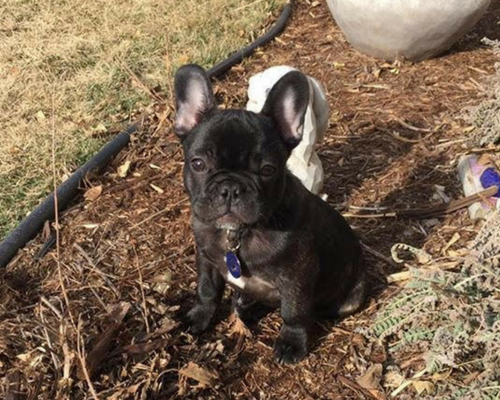 " CrosstimberFrenchies responded to our email in less than 24 hours. We had contacted several breeders prior. Cross Timbers were very knowledgeable as well as helpful in getting us the Frenchie we were looking for. They kept us updated while we waited for our puppy to be born, and sent pictures as soon as he was. Our Frenchie is everything we wanted, healthy and playful. When we picked up our puppy you could tell he was well cared for and socialized to people. I hope we get to purchase another puppy from Cross Timbers again in the near future. We have recommended this breeder to our friends! Trustworthy and reliable is what you will get from CrosstimberFrenchie breeders!"
" I acquired RJ from CrosstimberFrenchies one year ago this July 30. I had been wanting a French Bulldog for some time. During my quest for a puppy, I happened onto the CrosstimberFrenchies website. I reached out to Elmer, the proprietor, to gather information. At that time my intention was NOT to purchase but to gather information. After speaking to Elmer, I sensed Elmer's patience and caring. The icing on the cake, the photo of the blue fawn male from that litter, he melted my heart. From that moment on, I was in love. It was then that my original mission of information seeking had changed. That little blue fawn puppy would be mine. In short, RJ is awesome. He is a wonderful frenchie who has the most incredible personality. This little boy is smart, engaging, sweet, and so playful. He is energetic and curious. He has learned much just by watching his other canine siblings. He truly is a character, more I could have envisioned my Frenchie to be. He's my dream nugget of a fur baby. We did not just purchase a dog, we adopted a new family member. We absolutely love him to pieces and can't imagine our family without him. In terms of research to make sure Cross Timber Frenchies was official, I did none. It was a strong sense of a kind, patient, and caring gentleman on initial phone call. Turns out my "sense" was more than accurate. Dealing with Elmer has been and continues to be the most positive experience. He works with you with every detail. He is very knowledgeable, professional and prompt with answers to questions. (I had and have many). He also, knowing I was anxiously awaiting RJ's arrival, sent regular picture updates via text so I could see how he was growing until I was able to bring him home. I am a privileged puppy owner, to have found CrosstimberFrenchies. I have been blessed with such an amazing puppy. CrossTimber was there for us every step of the way. I am 100% confident my decision to choose a Cross Timber puppy. RJ was in great hands from the time he left CrossTimber', until his arrival in TX. RJ came to us well adjusted. I feel it was a testament to the care he was given during his first 8 weeks of life. He came from a home where he was showered with love, and exposed to children. They care about their dogs deeply. We are grateful for RJ. We love him to pieces. My experience was such a positive one, I will only go to Elmer for my next frenchie. Thank you CrosstimberFrenchies. "
" I had been searching for the right dog for a very long time. As things in my life fell into the right places, I decided that a French Bulldog was the right fit for me. I live in San Jose, California but was going for a visit to my Mom in Frisco, Texas. A couple weeks before the trip, I searched the AKC website on a whim to see if there were any Frenchie breeders in that part of Texas. Up comes Crosstimbers Frenchies in Oklahoma. When I pulled up the Gallery, my eyes fell upon the most beautiful French Bulldog pup I had ever seen. She was a gorgeous light fawn with the most beautiful harlequin diamond pattern under her eyes and was exactly what I was looking for. A voice inside me said, "That's her. That's your little girl!" I emailed Crosstimbers and a very short time later received a call from Elmer. He said she was still with them, but would have to check with his wife to see if I could have her as they were thinking of keeping her. The call came later in the day, she was going to be mine! Over the next few weeks, I was getting ready for her. Elmer had already been socializing her for some time and was keeping up with her shots. He was very kind when we met and had already obtained all the necessary paperwork for her travel back to California with me. He provided me with samples of the food he had been feeding her and answered all my questions. By the end of our meeting, he had provided me with a great deal of information on how to care for a Frenchie. Two months later, Harley has learned so much. I've never seen a dog pickup training so quickly. She has an amazing temperament and personality and plays very well with all the other dogs and people she meets. She was teacher's pet at the puppy training class she just graduated from and her veterinarian was impressed with Elmer's record keeping. She's a healthy and happy puppy that lights up our life! Elmer continues to check up on us every so often, concerned with not only how Harley is doing, but how me and my family are doing. He genuinely cares about his Frenchies and customers and makes himself available for assistance. Thank you so much Elmer!"
"Oliver is the most adorable, loving, caring, kind and considerate puppy in the world. He is also intelligent. After one week of bringing him home he learned to sit, speak, and stay! He has since learned to "Say hi" (shakes your hand), get a "belly rub" (rolls onto his back), go potty only on the grass avoiding the concrete, "drop it" or "leave it" (when told to stop what he's doing or drop an object), and goes "up" (stands on two feet). He is truly one of a kind. Oliver is our alarm system, before a stranger even rings the door bell, his bark will let us know that they are approaching. He is very patient with our 5 year old son who is extremely hyper and often antagonizes him. He loves to cuddle and has an adorable snore that brings a smile to every face in the room. He loves wearing sweaters, getting "paw-nicures," brushing his teeth, getting brushed, massages, and taking baths. Oliver lives a luxurious lifestyle but is grateful for every bit of it and shows it with all the love he bestows upon us. Thanks to Elmer I have a new son, a loyal companion, a best friend. He has truly become part of the family! Oliver (Jackson) is proof that Elmer is dedicated to breeding the highest quality Frenchies out there! I highly recommend him to anyone who is looking for a lifelong companionship with a Frenchie. We are extremely happy with our Oliver. Crosstimber Frenchies is where I will get my next Frenchie if we decide that Oliver needs a friend. Elmer was very kind giving me a timely response with regards to any inquiry that we had about Frenchie's! He was very helpful and even provided Frenchie Food samples so that Oliver could decide which dog food he liked the most. He was very understanding and genuinely cared about Oliver's well being and ensured that as a first time Frenchie owner that we would be prepared to give Oliver the best home possible! Thank You Crosstimber Frenchies and Elmer for giving us our Oliver! "
If you want to know more about the dogs we breed, ask our past customers. Or, you can ask us directly by calling today.